Apex Locator Builded In The Endo System
The apex locator is integrated into the endodontic motor system and handpiece to provide continuous working length measurement during root canal preparation.
As the file advances down the root canal, the apex locator sends small electrical signals through the file to the tip to detect the proximity to the apical foramen.
The measurements are transmitted back to the apex locator and motor unit.
As the file tip approaches the apex, the measurement value decreases. Typically, a reading of 1.0 indicates the tip is at the apical constriction.
When the reading drops below 1.0, the apex locator triggers the handpiece LED display to enlarge the working interface.
This enlarged interface visually indicates to the dentist that the file tip is nearing the apex. It shows an magnified view of the root canal anatomy.
The visual feedback on the LED display allows the dentist to see the enlarged canal and precisely control the file advancement to avoid overinstrumentation.
The apex locator integration enables safer working lengths and improved tactile awareness of file tip position relative to the apex. This helps prevent apical perforations.
Apex Locator Integrates with Endo Handpiece
How to operate the expanding root canal and measuring mode simultaneously:
Connect the endo motor handle to the USB socket at the bottom of the unit.
Insert the lip hook of the measuring wire into the white socket and hang it on the patient's spat.
The gray socket of the measuring wire is not used at this time.
The canal length measurement indicator bar will appear on the screen when files arrives the apical location nearby.
Left-Apex locator mode.
Right-Apex locating with handpiece works simultaneously.
Set the desired automatic functions:
As you approach the canal entrance, the motor will automatically start rotating.
In the apical area, the motor will automatically reverse direction and slow down.
When leaving the canal entrance, the motor will automatically stop.
Insert files and begin cleaning and shaping the canal while monitoring canal length on the screen. The pre-set automatic functions will activate at the programmed lengths.
The endo motor and apex locator working together provides critical safety benefits when cleaning and shaping the root canal:
The apex locator constantly monitors the position of files in the canal by measuring impedances.
If the apex locator test reading drops below 1.0, this indicates the file is approaching the apex.
When the file tip nears the apex, an enlarged interface is displayed on the endo motor handle screen. This provides:
Visual notification that the anatomical apex is near.
An enlarged view of the root canal on screen as you approach the apex.
Allows the dentist to precisely locate the apex and avoid overinstrumentation past the apex.
A critical safety feature to prevent damage to the tooth apex and surrounding anatomical structures.
By combining the precision of the apex locator with the endo motor's automated functions, the risk of apical perforation is greatly reduced.
Endo handpiece working model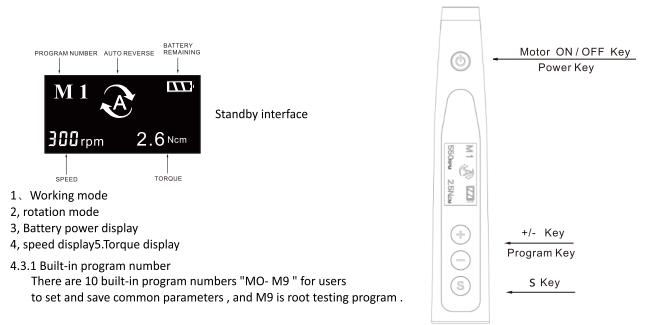 | Mode | Description |
| --- | --- |
| Forward | Forward 360° automatic movement, stop when resistance exceeds set value |
| Reverse | Reverse 360° automatic movement, stop when resistance exceeds set value |
| ATC Continuous Forward | Forward 360° movement, reverse when forward resistance exceeds set value, resume forward after removing torque |
| ATC Continuous Reverse | Reverse 360° movement, forward when reverse resistance exceeds set value, resume reverse after removing torque |
| Reciprocating Forward | Forward and reverse rotation continuously circulates |
| Reciprocating Reverse | Reverse and forward rotation continuously circulates |
Technical info
Parameter
Details
Torque Range
0.3-4.0 Ncm
Speed Range
140-550 rpm
Handpiece
16:1 reduction mini head
Battery
800 mAh Lithium rechargeable battery
Working Modes
M0-M9: Various 10 custom endo modes

M9: Apex locating(root length measuring) mode

Apex Locator
Integrated electronic apex locator

Accuracy: ±0.5 mm

Measurement Range
0-99 mm
Display
LED display shows enlarged canal on apex approach
Files Compatibility
All ISO endo files and systems