Endo Motor Wireless
This advanced device combines precision and convenience, making every procedure a breeze. With its Visualized Apical Display, you'll confidently position the apex.
It's ambidextrous, accommodating both left-handed and right-handed dentists. The built-in apex locator, with adjustable sensitivity, suits various patient needs.
The ergonomic design with a seamless shell, reducing vibrations with its advanced brushless motor. The 340° Rotatable Contra Angle enhances precision, and torque calibration protects delicate root canals. The TFT Colorful Display ensures easy data reading.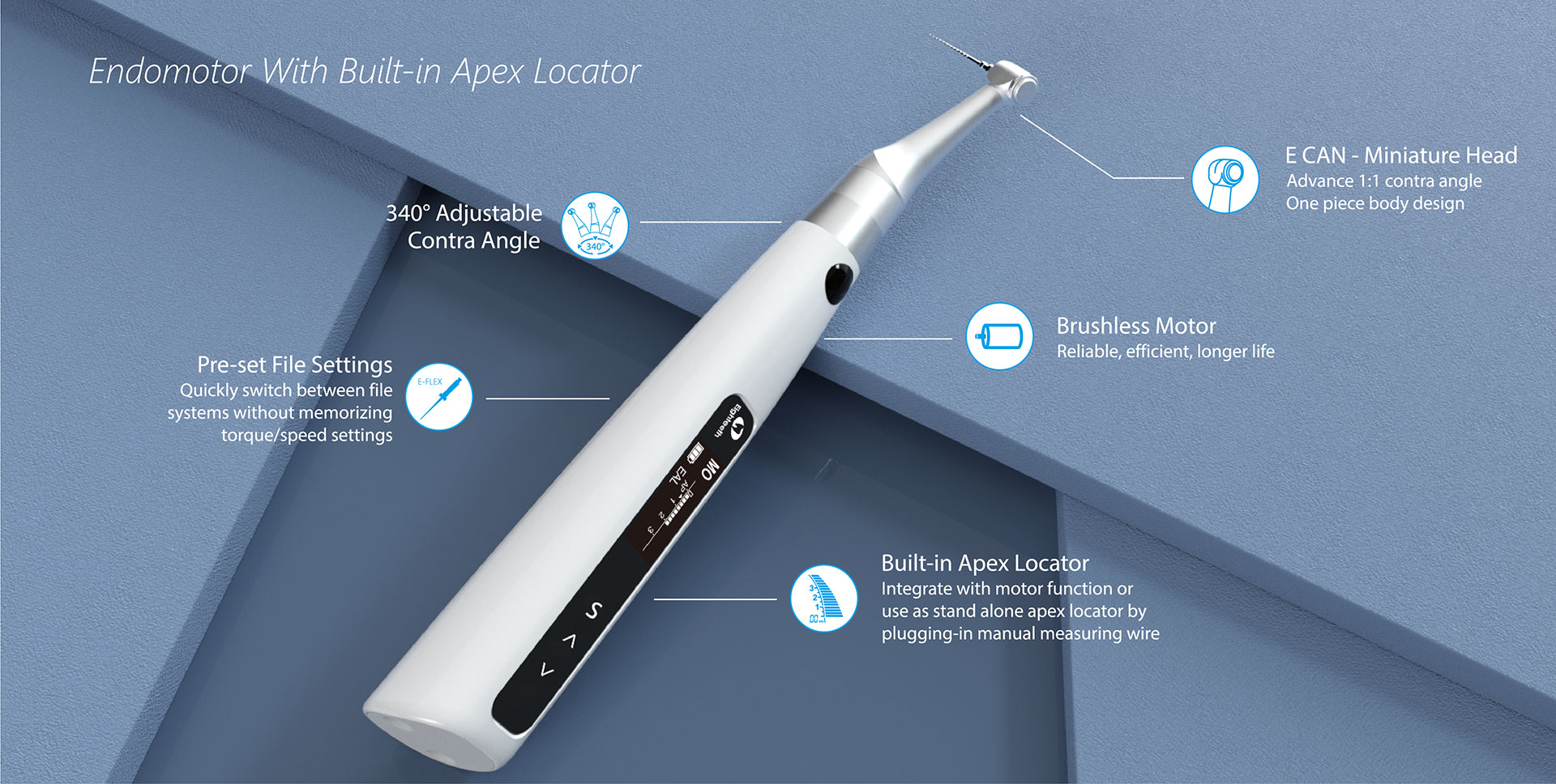 With versatile working modes, adjustable angles, variable speed, torque range, and a robust battery, our wireless endo motor is designed to excel in today's endodontics.
Elevate your practice with this state-of-the-art device.
Feature:
Integrated Mode Key Features:
Auto Start & Stop – The motor automatically starts when the file enters the root canal and stops when withdrawn.
Apical Reverse – At a pre-set point, the user can configure the file to reverse direction in the apex.
Apical Slow Down – The motor speed slows when the file nears the apex to avoid separation.
Adaptive Mode Key Feature:
Adaptive Torque Control (ATC) – Intelligently manages file stress by:

Reciprocating when torque limit is reached to reduce stress.
Resuming continuous rotation when back below preset torque level.
This smart torque management protects the file and root canal.
Technical
| Feature | Details |
| --- | --- |
| Motor Type | Brushless |
| Display | Color TFT display |
| Apex Locator | (Model M0)Integrated, adjustable sensitivity |
| Apical Control | Auto start/stop, apical reverse, apical slow down |
| Modes | Forward, reverse, adaptive, reciprocating |
| Memory | 11 programmable memory slots(M0-M10) |
| Speed Range | 120-1000 rpm |
| Torque Range | 0.5-4.0 Ncm |
| Handpiece | 1:1 mini contra-angle |
| Battery | 1500 mAh capacity |
| Design | Ergonomic, ambidextrous |
| Angle Rotation | 340° rotatable contra-angle |
| Torque Calibration | Protects delicate root canals |