Dental cad cam milling machine
The CAD-CAM milling machines accurately process the dental fabrications and help with appliance fabrication. The high-quality computerized processing brings comfort, ease, and fast dental construction. The milling tool can accept precise impression instructions, and 3-D technology ensures that all changes are carried out smoothly.
The CAD-CAM milling machine is easily operable without any specialized equipment. Our Dental Lab Shop dental milling machine fits any block size with diameter 98 mm with step, height from 10-35 mm.
Dentistry prosthesis cases from dental cad cam milling machine.
Feature
Material:This is a professional dental CAD-CAM milling machine made of high-quality stainless steel.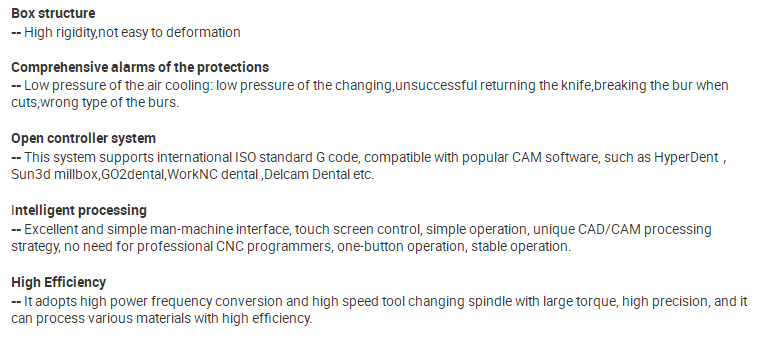 Application:
Used for the fabrication of crowns, bridges, fixed prostheses, inlays, on lays, and other orthodontic appliances.
Technical
5 Axis dental milling system with touch screen

Zirconia, Wax, PMMA, Peek

Crown/coping, Bridge, Inlay/onlay, veneer

Number of burs(Tools) housed

Compatible compressed air

Single-phase 220V 50Hz/60Hz

Average milling time(dental crown)