Intraoral X-Ray Imaging Solutions
Our advanced dental X-ray sensor is designed specifically for endodontic procedures, providing the image clarity needed for successful diagnosis and treatment planning.
The slim, tapered shape and flexible cable comfortably fit intraoral spaces and root canals, capturing crisp, detailed images for detecting fractures, caries, periapical lesions, and intricate canal anatomy.
Features
Ultra-high resolution APS CMOS sensor produces sharp, low-noise images to reveal fine structures.
Thin, rounded sensor head reaches 4mm for easy positioning and patient comfort.
Flexible, kink-resistant cable snakes around obstacles for clear access.
Fast image capture and processing minimizes exposure time.
Durable sensor withstands high numbers of sterilization cycles.
Works with AC and DC X-ray sources for seamless integration.
User-friendly imaging software simplifies workflow.
Costing-saving:
Faster Workflow, More Patients
Instant digital imaging eliminates costly film development and reduces x-ray retakes. Images are processed in just 3 seconds so you can see more patients per day.
With over 50,000 exposures without quality loss and 70,000+ bending tests passed, our durable sensor maximizes your investment while minimizing replacements.
There are no recurring costs for film, chemicals, or image storage. Our one-time sensor purchase includes all necessary software and accessories.
You no longer have to choose between cutting costs or providing excellent care. Our sensor makes premium imaging technology highly accessible.
Imaging Made Simple: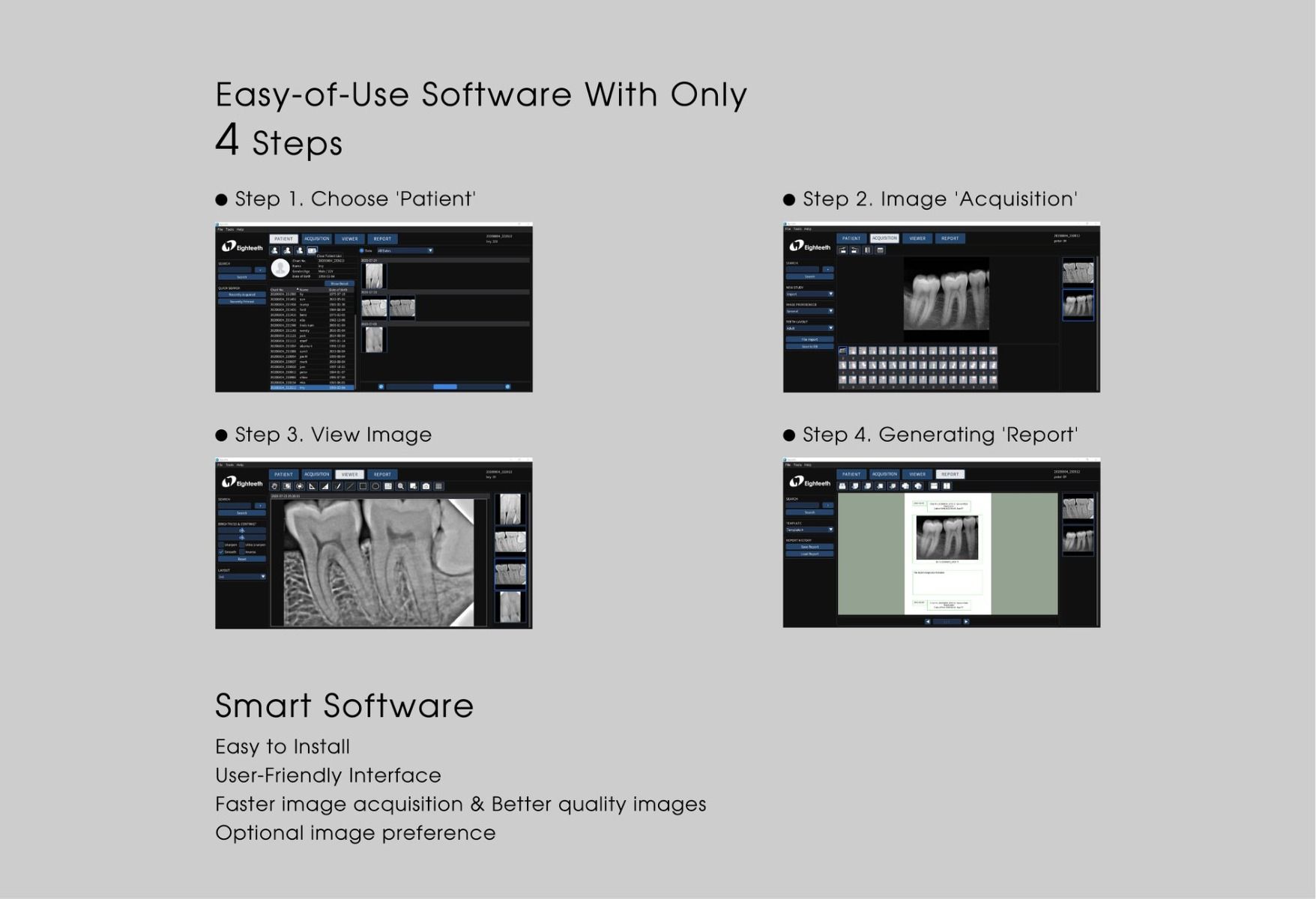 Our intuitive software streamlines intraoral radiography in just 4 steps:
Select the patient
Acquire the image with our slim, comfortable sensor
View the instant, high-resolution image
Generate and share diagnostic reports
No complicated controls or advanced training required. Our sensor simplifies dental imaging so you can focus on patient care, not technology. Easy, efficient workflows let you see more patients daily for increased productivity and profits.
Technical Info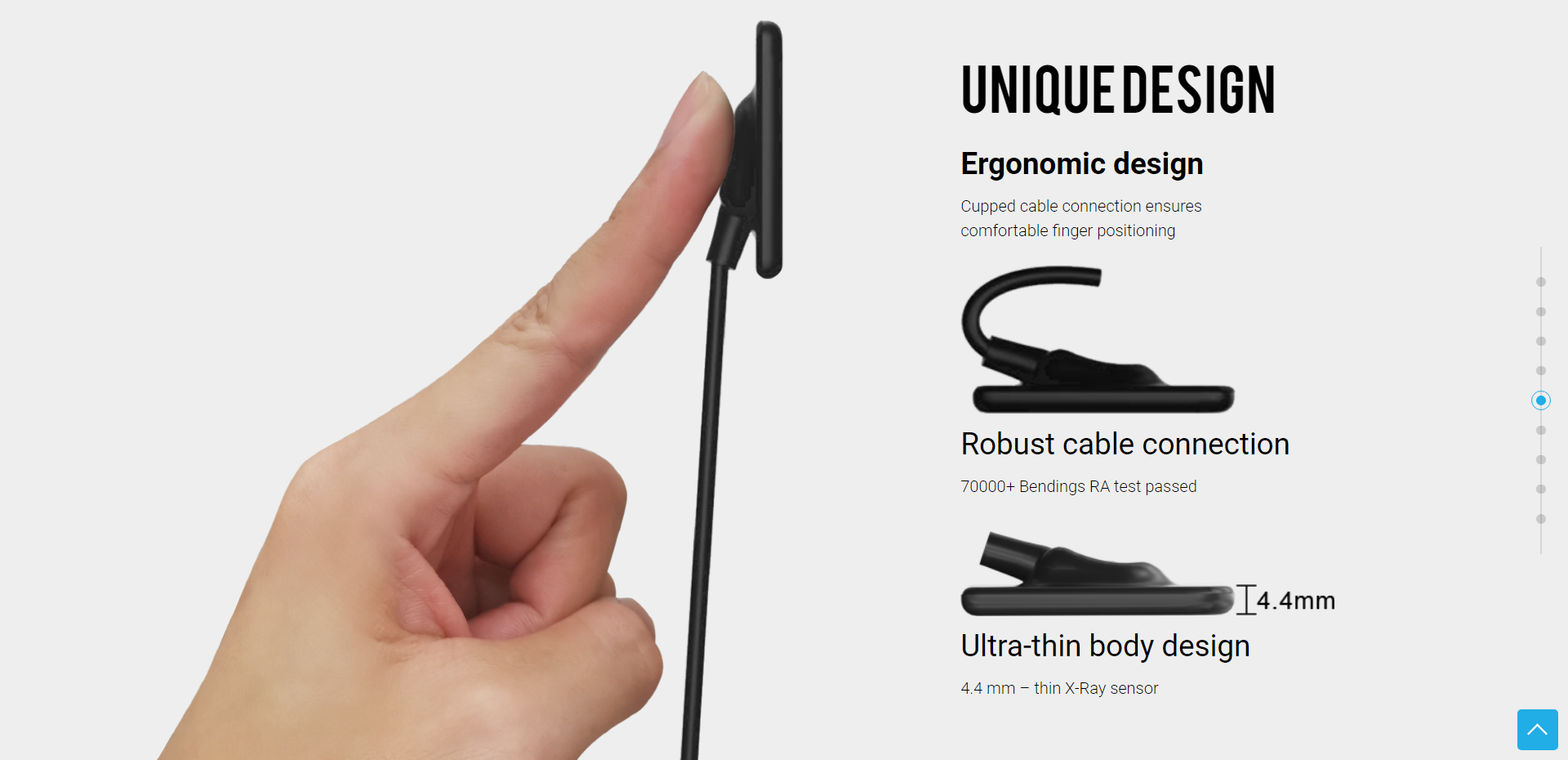 | Parameter | Small Sensor | Big Sensor |
| --- | --- | --- |
| Dimensions | 25.4 x 36.8 x 4.4mm | 30.4 x 41.9 x 4.4mm |
| Imaging Area | 20 x 30 mm | 26 x 36 mm |
| Resolution | 20 lp/mm | 20 lp/mm |
| Image Capture Time | ≤3s | ≤3s |
| Sterilization Cycles | >50,000 | >50,000 |
| Bending Tests Passed | >70,000 | >70,000 |
| Connection | USB 2.0 | USB 2.0 |
| Exposure Detection | Automatic | Automatic |
| Sensor Technology | APS CMOS | APS CMOS |
| Output Depth | 16 bit | 16 bit |
| Dust/Water Rating | IP68 | IP68 |
Packing list:
Warranty information
Pre-installation Software In U-key Storage
User manual
Cable Length:3M
X-ray senstor