Experience Cleaner, Healthier Teeth Anywhere with the Portable Pro Oral Irrigator.
Whether at home or on the go, our rechargeable water flosser provides a powerful yet gentle clean for your teeth and gums. The large 300ml removable water tank allows for up to 60 seconds of uninterrupted use, while the IPX7 waterproof rating lets you use it even in the shower.
With its integrated pulsed pump, our oral irrigator delivers a dynamic water flow that effortlessly reaches deep between teeth and along the gumline, promoting optimal oral hygiene.
The Pro Oral Irrigator features 5 specialized nozzle tips to target plaque buildup and keep your smile sparkling.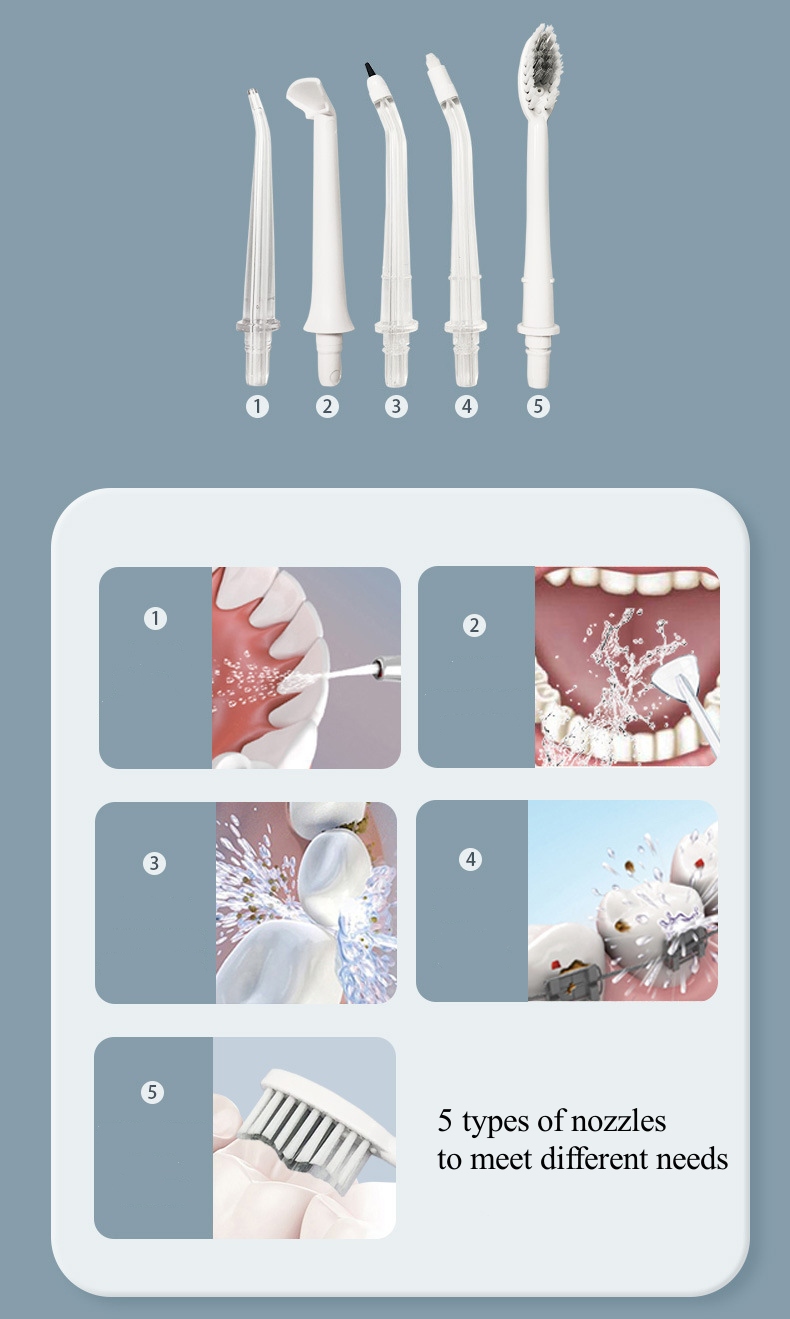 Standard Head (0.7mm): Ideal for daily oral cleaning, removing food particles, and maintaining plaque-free teeth.
Tongue Coating Head: Effectively cleanses your tongue after meals, eliminating residual food particles and promoting fresh breath.
Periodontal Pocket Head: Reaches deep into periodontal pockets, targeting hard-to-reach areas for a thorough clean and improved gum health.
Orthodontic Brush Head: Specially designed for orthodontic patients, ensuring braces and wires are debris-free for optimal hygiene.
Toothbrush Head: Experience a new level of brushing while flushing, combining the benefits of traditional brushing and water flossing.
With its sleek, lightweight and ergonomic design, the Pro Oral Irrigator packs neatly away in its included travel bag. Easy to operate with four modes and water pressure levels, it's the powerful yet portable way to care for your oral health whether you're home or away.
Technical info
| Feature | Specification |
| --- | --- |
| Water Tank Capacity | 300 ml |
| Battery Life | Up to 60 days |
| Charging Time | 4 hours |
| Waterproof Rating | IPX7 |
| Modes | 4 cleaning modes |
| Pressure Levels | Adjustable water pressure |
| Nozzle Tips | 5 (standard, orthodontic, periodontal, tongue cleaner, toothbrush) |
| Portability | Travel bag included |
| Dimensions | 20cm x 20cm x 20cm |
| Weight | 0.8 kg |