A dental technician must have certain essential equipment in their lab to be able to fabricate prosthesis. One such piece of equipment is the dental lab bench. These benches typically have a large work surface for doing intricate detail work, drawers for storage, and adjustable height lamp. The bench should be sturdy and practical to use in the dental lab.
Things Should Be Considered For The Lab Benches
When purchasing a lab bench, consider the size and shape of the bench. A good bench should be able to fit in the available space in the lab. The work surface should also be large enough to accommodate the necessary tools and equipment. The height of the bench should also be adjustable in order to accommodate different technicians.
The bench should also have storage space for tools and equipment, and should be easy to clean and maintain. It is also important to ensure that the bench is ergonomically designed in order to minimize the strain on a technician's back when working for long hours.
When purchasing a lab bench, consider the size, shape, and features of the bench to ensure it meets the technician's needs.
Dental Lab Shop offers the best design and deal on double technicians dental lab benches. Our bench is the perfect solution for removal of unwanted dust from polishing & finishing dental lab prosthesis. Our laboratory workbench is designed for technicians to keep a comfortable posture while working on dental lab products. The overall frame is made of steel and the tabletop is made of medium density fireproof material. Plus, the important and necessary accessories like a light lamp, two arms resting panel, an auto-retrieve air gun, a vacuum device, and storage draws are included in the complete dental lab bench set.
Technical info: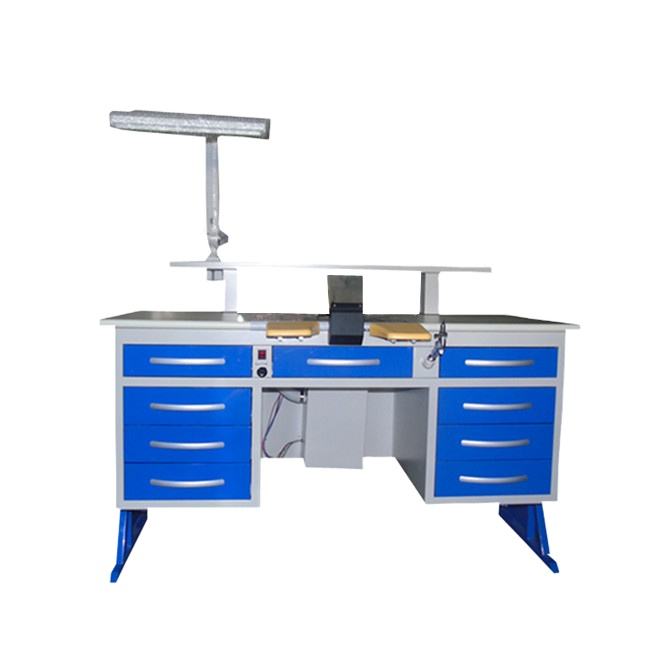 | Parameter | Description |
| --- | --- |
| Voltage | 220V/110v 50hz ±10% |
| Power per station | 600w |
| Vacuum suction power | 500W |
| Construction material | Steel frame, medium density fireproof tabletop |
| Emergency power supply | Less than 1000W |
| Overall length | 1.75M |
| Overall packing dimensions | 182x71x121mm |
| Net weight | 140Kg |
A well-designed dental lab should take into account the dimensions of a dental workstation, as well as whether it needs to accommodate one, two people.
For 1 person:
Allow about 60-80 sq ft of space for the workstation
Include a main work surface at least 5 feet wide and 2 feet deep
Have task lighting, magnification, instruments, and equipment within easy reach
Allow open leg room underneath and knee space of at least 27 inches
Have storage cabinets, drawers, and shelves nearby for materials
For 2 people:
Allow about 100-120 sq ft of space
Have a main work surface at least 6-8 feet wide
Position people across from each other or at a 120 degree angle
Make sure each person has their own leg room and knee space
Have commonly used tools and supplies accessible to both
Other lists considerations: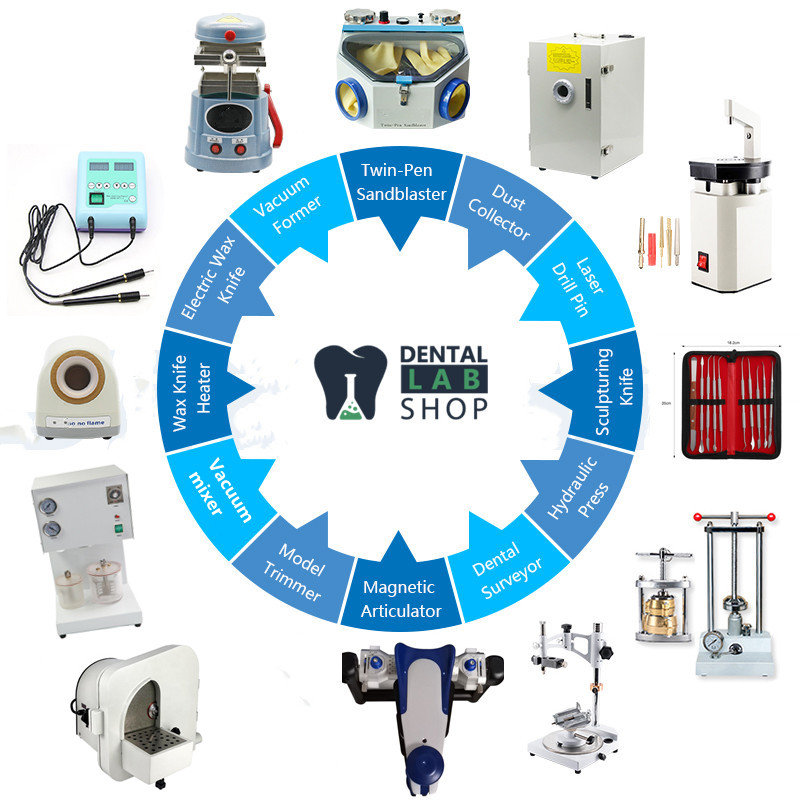 Allow space for equipment like furnaces, grinders, cad/cam milling unit, polishers
Include ventilation, compressed air, gas, and electrical outlets
Allow room for a sink, safety equipment, and waste disposal
Have enough shelves, drawers, and cabinets for supplies
Make sure there is comfortable leg room and knee space at each station
Allow room for chairs, stools, and mobility devices if needed
Conclusion
When setting up a dental lab, investing in high-quality benches is crucial.
Sturdy construction, adjustability, storage, and an ergonomic design are key factors to consider when selecting benches.
Optimal workspace dimensions, lighting, tool positioning, and accessibility promote efficiency and accuracy in lab work. While the needs of each dental lab vary, taking the time to properly outfit the space with well-designed benches and workstations helps dental technicians perform their best work in fabricating dental prosthetics and appliances.
With attention to detail and the technician's needs, an ideal dental lab environment can be created.