Designed to aid the endodontic practitioner in efficiently and effectively performing root canal therapy the 16:1 endodontic handpiece can perform precise and accurate dental procedures.
What it is?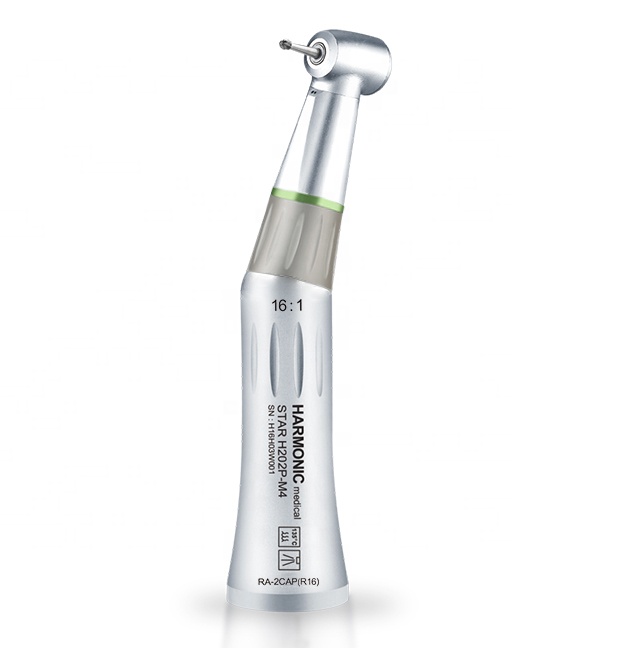 Technical info:
| Parameter | Description |
| --- | --- |
| Gear Ratio | 16:1 speed decreasing transmission |
| Connection Type | ISO E-type, powered by electric motor |
| Drive Mechanism | Push button chuck |
| Speed Range | 100 – 2500 RPM |
| Head Options | Rotary files, hand files, RA burs/polishers |
| Light Source | Glass rod fiber optic |
| Applications | Root canal cleaning, shaping, obturation |
| Benefits | Illumination and magnification of work area, control and efficiency in narrow spaces |
Speed 16:1 contra-angle endodontic handpieces are essential instruments for dental practices. This specialized handpiece is equipped with a fiber optic light. The light provides illumination to the mouth and also helps to magnify the work area. The contra-angle facility makes it suitable for posterior restoration treatment. Thus dentist can give precise and accurate treatment to patients to their entire satisfaction. These are KaVo compatible, offer easy maintenance, and one can disassemble the attachment without any additonal tools.
The endodontic handpiece can operate with a rated drive speed of 100 to 2,500 RPM with the help of a micromotor. The mini head and 16:1 ratio of the handpiece ensure working with rotary files and gates glidden drills at 60° rotation efficiently. The push button chuck of the handpiece makes it easy to replace burs and endo rotary files.
This handpiece is ideal for drilling the root canal and removing the infected or decayed material. It comes with a Clean Head System that includes an anti-retraction mechanism. It prevents blood and foreign matter from entering the head of the handpiece during dental procedures like root canal treatment.
Features
16:1 Speed with decreasing transmission
Suitable for unique dentistry applications due to its 3 head design options
Can operate within a speed range of 100 to 2,500 RPM
Push button
Endo rotary files with reciprocating motion
Inner water irrigation with a one-hole spray
Glass rod fiber optic light source
Speed selection
The 16:1 endodontic handpiece is suitable to operate from 100 to 2,500 RPM. It is possible to vary the speed as per the requirement of the dental procedure. Dental practices can perform a variety of endodontic applications using these detachable handpiece options.
Different heads
The handpiece comes with three types of detachable attachment heads that can be changed without the use of any tools. Furthermore, it is compatible with KaVo, making maintenance of the handpiece effortless.
Head for rotary files: These are suitable for engine file, and can work with 60º reciprocating motion. It comes with a push button and the recommended speed is a maximum of 3,000 RPM.

Head for hand files: These can work with vertical reciprocating motion. Have a push-button system and a 0.4 mm stroke. Also, has a recommended speed of a maximum of 3000 RPM.

Head for RA burs/polishers: These are suitable for 2.35 RA burs; have a push button and 360º rotation. The maximum recommended speed is 27,000 RPM.
Endodontic applications
For cleaning, shaping, and root canal obturation
Helps successful root canal treatments
Benefits
Specializes in diagnosing and treating root canals and related problems.
Can work in narrow areas with fiber optic illumination.
Easier to control as the special latch keeps the endodontic rotary files fixed with the hand piece.
Ensures quick and effective removal of the infected material
creates a clean and healthy environment for root canal filling
Conclusion
The transmission ration 16:1 reducation contra-angle handpiece is an essential tool for performing precise root canal treatments, finishing polishing task. Its 16:1 decreasing gear ratio allows controlled speeds from 100-2500 RPM. The specialized mini head design improves access to narrow spaces.
Interchangeable heads for rotary files, hand files, and polishers adapt to different procedures. The push button chuck provides secure tool holding.
Built-in glass rod fiber optics illuminate the work area. With enhanced illumination and magnification of the operating field, the 16:1 handpiece improves efficiency and success rates of endodontic treatments in small, hard to reach spaces.
This versatile handpiece maximizes control and precision for superior patient outcomes.