The 20:1 reduction contra angle handpiece is as important to dentists as a pen or a modern keyboard to a writer. The dentistry landscape has seen tremendous growth through the years. It is now not only limited to fault repairing and maintenance but has entered into the cosmetics and prostheses regimen. The field is now a unique combination of science and arts. Being a versatile tool the 20:1 Reduction Contra angle Handpiece acts as a Messiah in both common and sophisticated dental procedures.
What is it?
The 20:1 Reduction Contra angle Handpiece is configured with fiber optic and can reach the most awkward places like back molars. Most dentists and dental hygienists use it for performing specialty dental procedures like cavity preparation & removal, endodontics, micro-surgeries.
Technical info: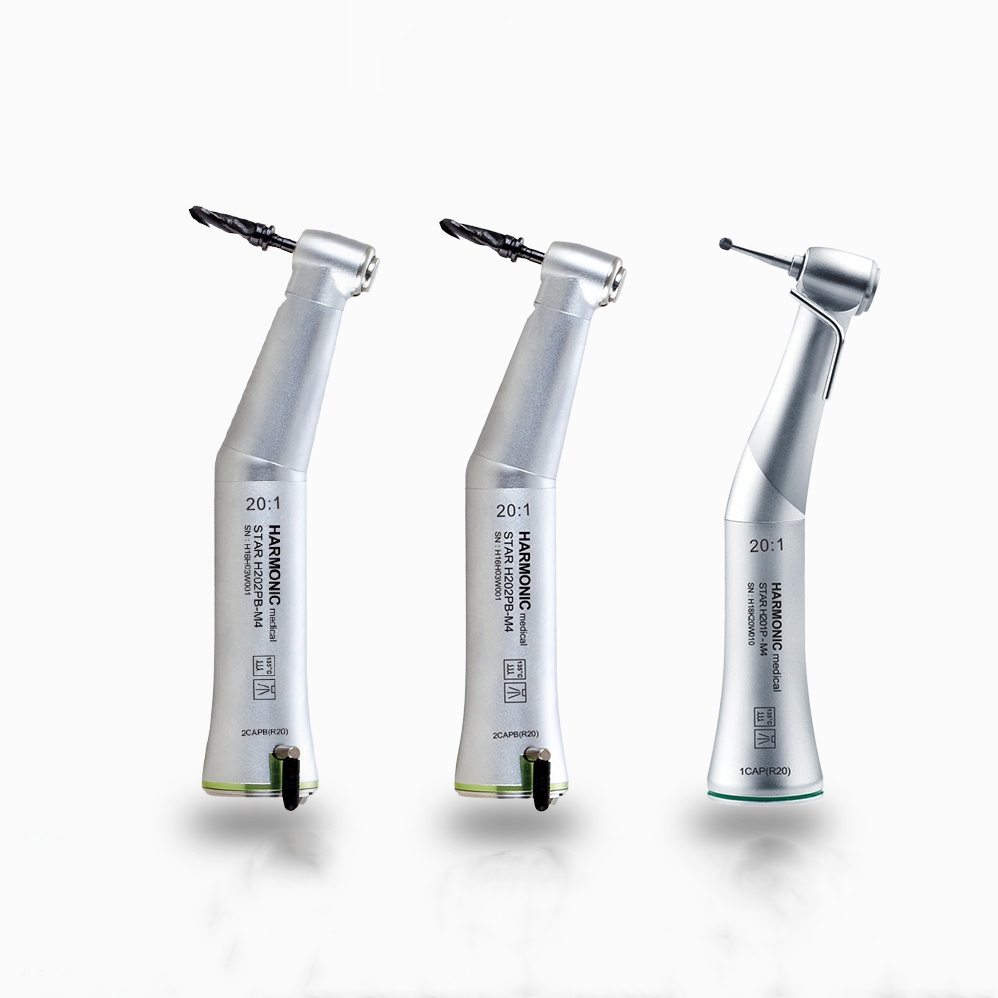 | Parameter | Details |
| --- | --- |
| Reduction Ratio | 20:1 |
| Compatibility | E-type motors |
| Speed | Up to 2000 RPM |
| Torque | Up to 90 Ncm |
| Spray | Internal or external water spray options |
| Fiber Optics | Available with or without fiber optics |
| Sterilization | Autoclavable up to 135°C |
| Chuck Type | Push button chuck |
| Head Dimensions | Diameter: 10.3mm, Length: 13.8mm |
| Burs | Accepts burs with 2.334 – 2.35mm shank |
| Warranty | 12 months |
It is specifically built with top-notch quality corrosion-resistant material using the latest technology to fulfill the needs of modern dental clinics. Whether one goes for common dental procedures, or improving dental cosmetics and prostheses, the contra angle delivers high-quality outcomes to the entire satisfaction of the patient.
Characteristical designs
The 20:1 Reduction Contra angle Handpiece has a host of distinct technical features. Besides its compatibility with E-type motors, the handpiece uses a fair amount of air and water pressure and can reach a maximum speed of 2,000 RPM.
The internal water spray of the contra angle handpiece ensures that the work area remains cool during lengthy dental procedures. The handpiece water supply connection to the implant motor is located at the tail, which makes it easy to access the narrow site with the small handpiece head.
With a high torque capacity of 70Ncm, this contra-angle handpiece provides the strength needed for drilling and shaping while maintaining precise control. Even demanding procedures like implant site preparation can be performed smoothly.
High-quality bearings are an added advantage of the contra angle handpiece. It delivers constant speed without any vibration delivering a smooth operation with low noise production.
The 20:1 Reduction Contra angle Handpiece boasts a smooth push-button chuck system making it comfortable and safe to handle while performing various dental procedures.
Not all dental procedures require the same time. Some of them are reasonably lengthy. However, the ergonomic design of the handpiece maintains the balance and provides a stress-free comfy grip during lengthy procedures. The small head design, with a diameter of just 10.3mm and length of 13.8mm, allows the handpiece to easily access tight spaces. Working in confined areas like the back molars is no longer difficult.
Meeting high hygiene standards is made simple with the ability to dismantle the handpiece without any additional tools. Cleaning and sterilization between patients can be done quickly and efficiently. The high-quality of manufacturing 304 stainless steel material makes the contra angle handpiece suitable for autoclave sterilization at a temperature.
This tool works with 2.334 to 2.35mm burs. It is also available with a 12-month warranty for global customers.
Options available:
Dental office can have the following options
1. fiber optic, inner water spray
2. inner water spray, Non-fiber optic
3. external water spray, Non-fiber optic

4. external water spray, fiber optic
All of the above come with a push button chuck and the maximum torque available is 90Ncm.
Benfits design:
Powerful 70Ncm torque for demanding drilling procedures
Compact 10.3mm diameter head accesses tight spaces
Short 13.8mm head length reaches far back molars
Easy no-tool disassembly enables quick sterilization
Conclusion
The 20:1 reduction contra-angle handpiece packs impressive capabilities into a compact, thoughtfully designed package. With its high torque capacity of 70Ncm, it can take on demanding drilling and shaping procedures with ease.
The small head size allows dentists to easily access tight spaces like the back molars or implant sites.
Quick and hygienic sterilization between patients is enabled by the ability to disassemble the handpiece without any tools. Made of high-quality materials, this versatile handpiece provides the power and precision needed for a wide range of applications.
For dentists looking to expand their clinical services, investing in the 20:1 reduction contra-angle handpiece can be a wise choice. The combination of strength, nimbleness, and efficient maintenance makes it a valuable addition to the modern dental practice.