Sterilize Dental Instruments Must-have Procedure In Every Clinic
Having an autoclave machine in your dental office is essential for providing safe and effective dental care. Autoclaves are a type of sterilizer that use high-pressure steam to sterilize instruments and tools, killing any bacteria or viruses that may be present. This ensures that patients can trust that their dental care is being done in a safe and sanitary environment. With an autoclave in your office, you can be sure that all tools and instruments used are properly sterilized and safe for use.
The benefits of daily autoclave sterilization of dental instruments include improved patient safety, lower risk of infection, and an improved patient experience. It also helps to ensure that instruments are in good working condition and that they can be used safely and effectively. Additionally, sterilization helps to extend the life of the instruments, making them last longer and reducing the need to replace them.
Maintaining a clean and safe environment in a dental office is of the utmost importance. One of the most essential instruments used in the dental office is the dental handpiece. This high frequency usage instrument requires daily sterilization with steam in order for it to be used safely and effectively. Therefore, it is important to understand the importance of taking the appropriate steps to ensure your dental handpiece is sterile and ready for use.
The basic procedure for sterilizing dental instruments (handpieces) in an autoclave is straightforward and easy to follow.
1. Clean the dental handpieces with a brush and warm water, then use an ultrasonic cleaner to remove any debris.
Rinse the handpieces and dry them afterwards.
2. Apply lubricating oil to the components of the dental handpiece.
3. Appropriately package instruments in sterilization wraps, pouches, or cassettes(instruments).
4. Select appropriate sterilization cycle based on load size and autoclave type (typically 121°C for 15-30 mins)
5. Place the sealed pouch in a disinfectant solution and leave it for the recommended amount of time.
The best way to choose an autoclave for your dental office is to carefully consider your needs and research the available options.
Dental Lab Shop offers the top-touch dental sterilizer autoclave which meets the European Standard EN 13060 and is certified to the European Class B Standard.
It is also safety tested for EN13060 with a three-stage pulse vacuum and drying function, with a vacuum degree up to -0.082Mpa. The remaining humidity of the instrument is less than 0.2%.
It is suitable for all types of packaged, unpackaged, solid and Class A hollow, Class B hollow and Class B hollow with internal piping instruments for disinfection and sterilization.
Best features: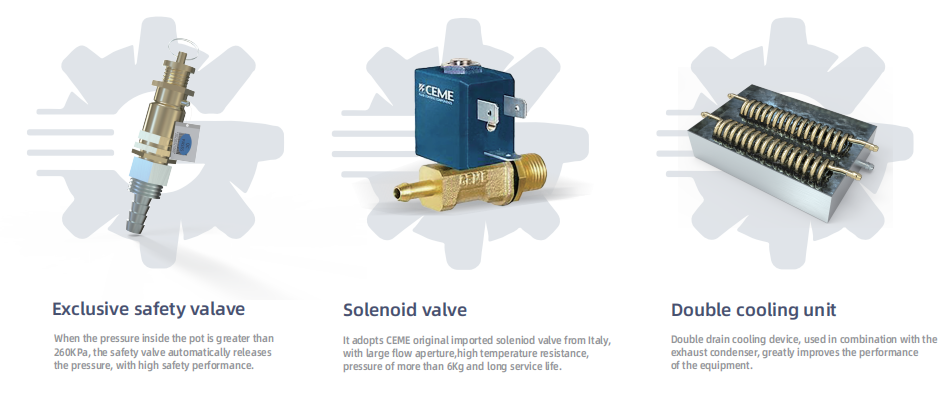 | Feature | Description |
| --- | --- |
| Certification | Meets European Standard EN 13060 and certified to European Class B Standard |
| Vacuum System | Three-stage pulse vacuum and drying function, vacuum degree up to -0.082Mpa |
| Instrument Humidity | Remaining humidity of instruments less than 0.2% |
| Instrument Compatibility | Suitable for all packaged, unpackaged, solid and Class A, B, B with internal piping instruments |
| Sterilization Time | Rapid process – takes just 25 minutes |
| Display | Touch LED display shows temperature, time, alarms, etc. |
| Door Protection | Double door limit protection device |
| Temperature Protection | Automatic over-temperature protection from Texas, USA |
| Pressure Sensor | MOTOROLA precision sensor, 10 year lifetime |
| Water Pump | Low noise Italian water pump, 100,000 cycle lifetime |
| Control Chip | American MCP high-speed chip for performance and accuracy |
| Control Algorithm | Latest PID algorithm for reliability and low failure rate |
| Data Functions | Built-in printer and data output storage |
| Cycles | 6 sterilization and 2 test procedures to meet needs |
| Ease of Use | User friendly, convenient operation |
| Size Options | Available in 18L and 23L |
In conclusion-With its rapid 25 minute sterilization cycle and intuitive touchscreen display, this autoclave makes it simple to properly sterilize dental instruments. The double door protection, automatic temperature regulation, and built-in data storage give peace of mind that every cycle is safe and documented.
Precision components like the MOTOROLA sensor and Italian water pump ensure reliable performance for years to come. With cycles specially designed for handpieces, oral surgery tools, and other dental instruments, this autoclave streamlines your sterilization workflow. Just load, select the right cycle, and let the high-tech features do the work – you'll have instruments ready to go in no time.