Dental Autoclave Machine
Our dental steam sterilizer designed with a built-in steam generator ensures a better sterilization effect. The products with LCD screens display the working time, temperature change, pressure, and other operating states condition for different stages procedures: exhausting, sterilization,  and drying applied in dental clinic tools and instruments for the next dentistry treatment application.
The dental autoclave machine door lock system is an automatic safety door lock that prevents the door from opening while under high pressure.
The dental autoclave machine sterilization chamber is made of polished stainless steel, the sterilization data can be stored either via USB or the printer which can be printed.
High Light Design
Durable components ensure the daily use:
Overheat control: When the inner temperature is overheated, power will be shut down  automatically and the alarm system
Overpressure control: it has an alarm system when overpressure.
Safety door lock system
Low water level indicator: It has an alarm system when low water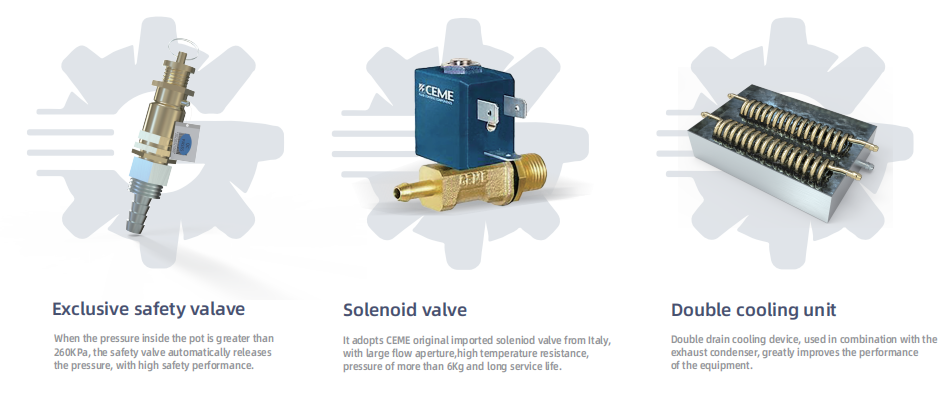 Component features:
Accessory
Description
Super Vacuum Pump
– Working efficiency is fast

– Ultimate vacuum can reach -90KPa

– Temperature resistance up to 90°C

– Passed life aging test over 20,000 times

Temperature Protection System
– Uses Texas ultra-high temperature limiter

– Controls temperature between 100-200°C

– Provides accurate data

– Safe to use

Innovative Steam Generator
– New concept solves previous blocking, seal aging and leakage issues

– Safely and reliably generates steam

– Steam heating water tank speeds up sterilization time

Exclusive Safety Valve
– Automatically releases pressure over 260KPa

– High safety performance

Solenoid Valve
– Uses original imported CEME solenoid valve from Italy

– Large flow aperture

– High temperature resistance

– Pressure over 6Kg

– Long service life

Double Cooling Unit
– Double drain cooling device

– Used with exhaust condenser

– Greatly improves equipment performance
Technical
Chamber Dimensions(mm)(Φ × D)
  250× 355
  250× 465
Chamber  Capacity(liter)
18L
23L
Overall Size(cm)(L× W× H)
660× 445× 450mm
660× 445× 450mm
Heating Power
    1500W
  2000W
Net Weight(KGS)
49
  54
Gross Weight(KGS)
  59
   65
Packing Size(cm)
700× 500× 500mm
700× 500× 500mm
Minimum Desk Size(cm)
70× 50
70× 50
Power Supply
110/220± 10%, 50/60HZ, 10A
Sterilize Temperature
121/134
Sterilize Time
Please refer to different programs
Dry Procedure
Vacuum    drying
Sterilizer Construction
Stainless steel
Water tank
 internal
Stainless steel instrument  container:
  2 trays