Looking for the perfect dental cabinet at a great price? Finding the right one at wholesale prices can be challenging, but it's possible! In this blog post, we'll provide tips on how to find the perfect dental cabinet for your clinic at the best prices.
What is a Dental Cabinet?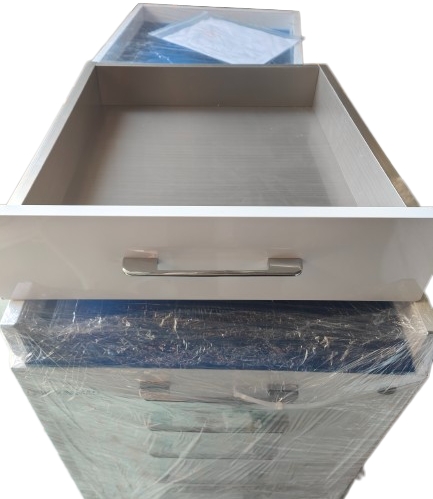 Specifications:
| Parameter | Description |
| --- | --- |
| Dimensions | Standard size is about 48 x 40 x 85 cm (19 x 16 x 33 inches). Fits most operatories. |
| Drawers | Sliding drawers provide full access. 5 drawers is typical. |
| Drawer Slides | High-quality ball bearing slides for smooth operation. Full extension for access to back. |
| Drawer Handles | Stainless steel handles are durable with antimicrobial properties. |
| Cabinet Body | Made of stainless steel for durability and easy cleaning. |
| Glass Top | Tempered glass transmits light. |
| Interior Storage | Two different shapped compartments, trays and dividers to organize supplies. |
| Work Surface | Spacious to hold tools, monitors and other items needed close by. |
| Mobility | Mounted on 4 swivel casters, movable and lockable. |
| Antimicrobial Surfaces | Handles and work surfaces have antimicrobial coatings. |
| Net weight | 40Kg |
| Warranty | 5 year warranty. |
| Care & Cleaning | Stainless steel cleans easily with medical grade disinfectants. |
A dental cabinet is typically a large storage unit that sits above the countertop in a dental operatory. It often features slides out drawers to store small dental instruments and supplies. The top of the cabinet provides extra work space for the dentist and dental assistant. Some models feature a tempered glass top to allow light to pass through.
Why Dental Cabinets Are Essential
Dental cabinets serve several important functions in a dental practice:
Storage – Cabinets provide secure and organized storage for small dental instruments, materials and supplies directly within the operatory. This allows for quick access to what dentists need during procedures.
Work Surface – The top of the cabinet offers additional work space and can hold a computer monitor, dental tools, patient charts and other items needed close at hand. Some cabinets have a tempered glass top for an elegant look.
Organization – The drawers and compartments neatly organize supplies for easy access. This improves efficiency as dentists can quickly locate what they need.
Infection Control – Closed storage helps keep instruments and materials clean when not in use. This aids in maintaining a sterile environment.
Aesthetics – Cabinets contribute to the clean, professional appearance of the operatory. Their sleek design makes spaces appear organized.
Key Features of High-Quality Dental Cabinets
When selecting a dental cabinet, dentists should look for these ideal features:
Sliding drawers provide full access without doors getting in the way. At least five drawers allows ample storage.
Swivel casters allow the cabinet to be moved as needed. Locking casters keep it securely in place during use.
Durable stainless steel handles withstand constant opening and closing of drawers over time.
A tempered glass top permits light through while offering an elegant look.
Multi-divided interior compartments efficiently organize supplies. Removable trays provide flexibility.
Quality materials like stainless steel provide durability to withstand the demands of a busy dental practice.
Antimicrobial surfaces help maintain sterility and a germ-free environment.
Cabinet prices
Dental Lab Shop cabinet is a high-quality piece of equipment, made with 304 stainless steel and mounted on 4pcs swivel casters and lockable. It has dimensions of 480x405x850 mm and is ideal for a variety of dental uses. The price of the cabinet is dependent on the large dimensions and heavy weight, so if you require wholesale prices please contact our sales team to negotiate the wholesale prices via vessel shippment rather than air plane DHL/FedEx.
If you require large quantities of the cabinet, the FOB prices can be as low as $149 per unit. We can arrange vessel shippment and door to door delivery. Please email [email protected] with your port name or full consignee address and our sales staff will be able to help you with all the necessary arrangements.
Conclusion: The dental cabinet is an indispensable fixture in any operatory. Investing in a well-built model with sliding drawers, multi-features compartment trays and a stainless steel body will provide dentists with secure instrument storage, ample workspace and an efficient way to have supplies easily accessible. With an organized dental cabinet close at hand, dentists can focus on providing excellent oral care to each and every patient.