Those who have good teeth, never mind flashing a smile. But a smile could be a source of embarrassment and pain for an individual with bad teeth and gum disease. In the early days of dentistry, dentists used the teeth of other humans for replacement. But the dental lab landscape has evolved with revolutionary changes in the process. Now it uses dental lab equipment and tools that are controlled by computers to provide perfect dental devices.
Importance of a quality dental lab
Finding a high-quality dental lab for a dental clinic is just like having a perfect marriage. A quality dental lab always focuses on building the best team by hiring the best persons and providing continuous training. One must pick a dental lab that features experienced dental lab technicians, technology, and has dental lab equipment. A full-service dental lab must use multiple techniques for dental restorations, and, for this, a vast range of dental technician tools and equipment is necessary. It must include versatile handpieces and an articulation system to mount models. Cleaning & polishing systems are also necessary to give final touches to dental restorations. Last but not the least; a CAD/CAM system is also essential for the perfect design and fabrication of dental restoration devices. Dental labs have furnaces, waxing & casting equipment. These are vital for fabricating metal restorations. Quality dental labs hire highly skilled staff. They use quality material and follow the latest and the best technologies to offer the best solution.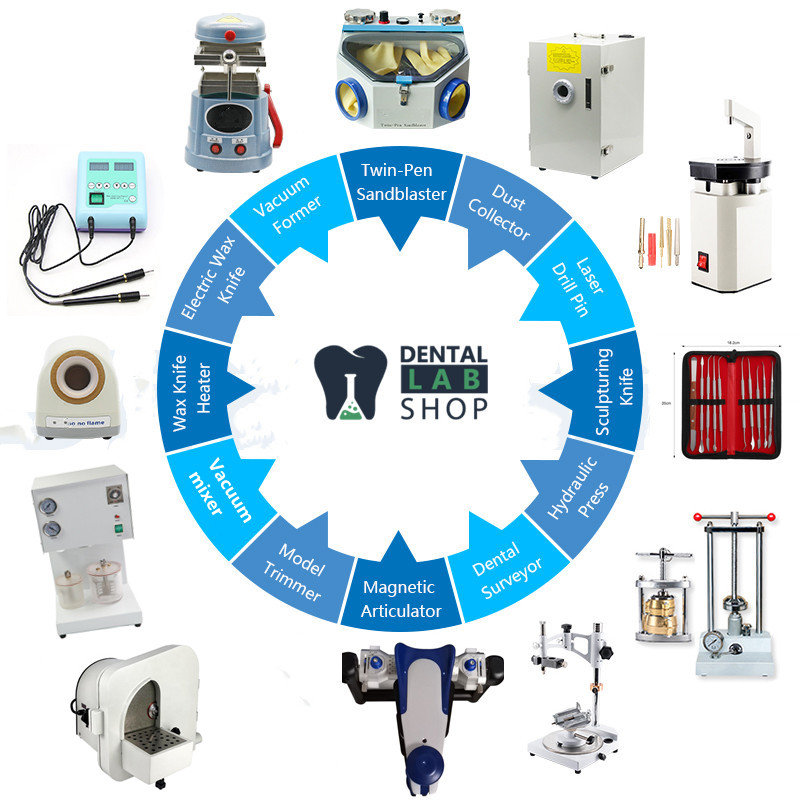 The criterion for a quality dental lab
A high-quality dental prosthesis is only possible when the material used in the dental devices is biocompatible with oral tissues. None of the material and equipment used should cause allergic reactions. Moreover, dental devices must have a long shelf-life. They should also be strong enough to withstand temperature, humidity changes.
What is a dental laboratory technician?
Dental laboratory technicians help people smile by creating dental prostheses. A dental laboratory technician usually works in dental labs. They also work for the restoration of functionality, and improvement of the health of the mouth. Dental lab technicians are skilled technicians with an artist's vision. They mimic the natural bite of a patient and help jaw movement. They work on the prescription of dentists and also help them provide the optimal dental service for individuals.
Dental lab technician roles & responsibilities
Dentists rely on a team of professionals to provide the best dental services to patients. Dental lab technicians or dental lab technologists are vital members of the team. Dental lab technicians design bridges, crowns, dental braces, and dentures. These are essential for improving the appearance, speech, and chewing ability of patients. They are an essential part of the dental team and help to ensure proper care to the patient. Dental lab technicians rely on technology and artistry to deliver the best restoration and orthodontic devices. They have to combine art with science to do all these.
They are involved in designing and manufacturing correct dental devices to improve and replace natural teeth. For this, they need an artistic vision with technical skills. Dental lab technicians work in close coordination with dental clinics and on the dentists' instructions. They have to make wax models from dental impressions and construct both metallic and non-metallic dental replacements. They also give the finishing touches to the dental devices before final placement. Dental lab technicians have many responsibilities. It includes partial or full denture construction, fabrication of prostheses, maintaining lab equipment, design process evaluation, quality improvement, and many more things.
Dental laboratory technician skill requirements
The work of dental lab technicians requires both artistic and technical skills. These are more innate than acquired. People who desire to take this as a career must have the following skills:
Artistic Instincts: Creativity is the first and foremost skill required for dental lab technicians. Different patients have different types of teeth and, therefore, each piece they design and craft is unique.
Have an eye for details: Not the teeth of two individuals are alike. Even the slightest change in angle may render a dental device unsuitable for fitting. So, a dental lab technician must pay attention to every detail, and work meticulously for mimicking natural teeth.
Hand-eye coordination: Dental lab technicians have to work with varieties of dental lab tools and substances that need much dexterity. So, one must possess good hand-eye coordination to deliver optimal results.
Color perception: The color of teeth varies from one to the other. So, working on dental restoration projects demand a unique color perception to give it a natural look.
Dental lab and dental clinic communication and relationship
Frequent changes have occurred in the dentistry landscape. These resulted in growing demands on how dental labs and dental clinics should work. The success of providing a quality dental prosthesis depends on the combined work of a dental lab and a dental clinic. Ideally, a dental laboratory technician should meet the patient and the dentist for discussions. Such meetings are vital for correct evaluation of the patient's requirements and also to deliver entire satisfaction. Not all dental labs and dental clinics can afford this luxury, as they mostly have their establishment in separate locations. It makes good communication between the two entities essential, necessary, and vital. Despite communication holding the key to success, effective communication between dental labs and dental clinics is challenging, especially in critical situations. Lack of such communication is sure to cause failure in providing the optimum dental services to the patient. Dental labs and dental clinics must have effective communication to work best in tandem for excellent dental restorations. Both of them have to be proactive and use all communication channels like prescriptions, work authorizations, and web content management systems. Only such coordination can provide optimal dental care and exceed the expectation of the patient.
Summing up
Technology has brought amazing changes in dental practice. The development of dental laboratories is one of them. Quality dental labs have the right staff and the right equipment and tools. They can assist dental clinics to provide patients with the best possible solution and improve the performance of their dental practices.