The 1:5 45° Contra-angle Handpiece is specially designed to provide optimal performance in dental procedures. This versatile tool is a combo version of surgical and contra-angle handpieces. Because of the improved visibility of the treatment site it offers, the handpiece is ideal for dental practices looking for reliable and durable tools. It is also perfect for accessing molars with patients with small mouths!
The 1:5 45° Contra-angle Handpiece is enjoying popularity every day for its superior performance and super duper quality. Whether you want to make small adjustments, perform endodontic surgery, or any other dental procedures; it happens to be a must-have tool for dental practices.
What is a 1:5 45° Contra-angle Handpiece?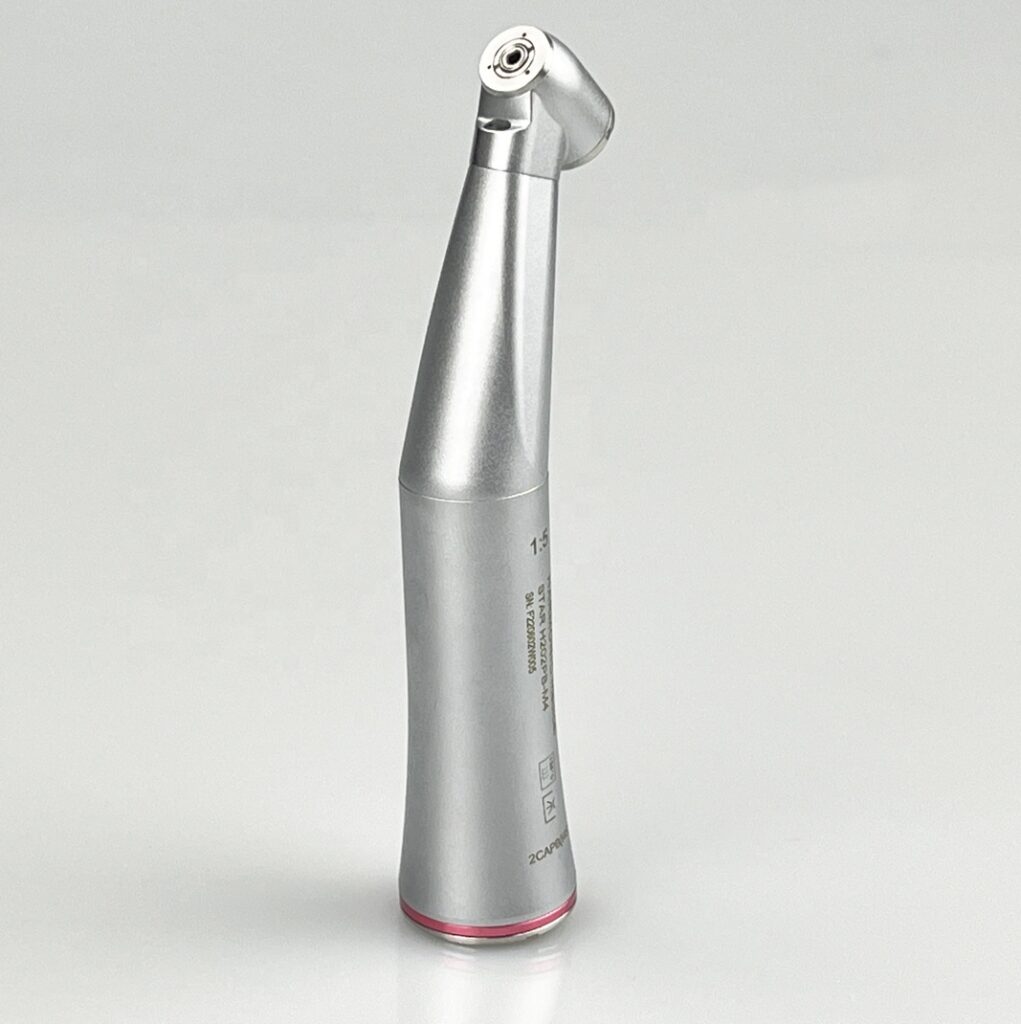 Technical table:
| Parameter | Details |
| --- | --- |
| Gear Ratio | 1:5 increasing speed |
| Inner water spray | 3 holes spraying channel |
| Noise emission | Less than 65 dB |
| Burs | FG Burs |
| Chuck | Push button type |
| Illumination | Fiber optic |
| Sterilization | Autoclave at 135°C |
| Connection | E-type connection |
| Head size | Diameter 9.7mm, Length 12.0mm |
| Maximum speed | 20,000 RPM |
| Chunk type | Push button burs chunk |
| Material | 304 stainless steel |
The tool combines all the advantages of straight and contra-angle handpieces to ensure optimal performance! It provides easy and enhanced access with improved visibility of the treatment area during the process. Patients with small mouths pose a challenge in dental procedures. You can access the retromolar region of patients with small mouths easily and provide the needed treatment without any fuss.
It comes with a host of benefits. It eliminates the need for dispersion of the soft tissues during the extraction of wisdom teeth. Because of its unique design and steady rotation of the head, the tool allows dental practitioners to work swiftly and accurately.
The 1:5 45° Contra-angle Handpiece ensures constant and powerful cutting. Thus, it helps to reduce stress on the arm and the wrist of the dental practitioner. Thus, a fatigue-free procedure is possible with the highest degree of accuracy, care, and precision. The inner water spray provided ensures cooling of the treatment area during treatment.
You might be looking to start smart dentistry in your dental office. Provided with a great coupling system, this fiber optic handpiece delivers a high degree of precision. Just get this amazing tool to make your life easier!
Features
The 1:5 45° Contra-angle Handpiece boasts the following features.
Scratch-proof, corrosion-resistant metal construction
Clean head system
No unobstructed work
Ceramic bearings
Professional cooling
Easy cleaning and sterilization
Lightweight
Ergonomic design
Key benefits
The 1:5 45° Contra-angle Handpiece delivers the following benefits.
Unique versatility makes it suitable for a wide variety of dental procedures
Increased speed
Unique torque control
Superior accuracy, precision, and reliability
Reduced vibration ensures better control
Suits small mouth
Easy access to the molar area
Quick removal of the decayed and damaged portion
Stress-free handling and no extra load on the arm and wrist of the dental practitioner while performing a lengthy process
Brighter illumination and better visibility due to the fiber optic light source
Professional cooling eliminates the risk of thermal effects
Increased patient comfort
Conclusion
The 1:5 45° Contra-angle Handpiece represents a revolution in dental care, particularly when it comes to wisdom molar procedures.
With its 45-degree angled head and incredibly compact size, it provides unmatched access to impacted wisdom teeth. The handpiece's small head, measuring just 9.7mm in diameter, lets you easily reach even the most difficult to access wisdom molars.
Combine this with the integrated fiber optic illumination and inner water spray cooling, and you have optimal visibility and temperature control when extracting wisdom teeth. The contra-angle design provides the ideal clinical range of motion, while maintaining a steady stream of power.
Dentists can now experience reduced fatigue and greater precision during wisdom molar extractions thanks to the 1:5 45° Contra-angle Handpiece. This versatile and ergonomic tool will truly optimize your wisdom tooth removal procedures. Introduce it into your dental practice and take your molar access to the next level.