CAD CAM Dental Pmma Block
Dental Lab Composite Material PMMA Pucks for Molding and Temporary Crown,CAD CAM dental pmma block is applied for the zirkon zahn dental milling system,it comes standard Vita 16 colors plus clear and pink color.
Application: For denture prosthesis, for making temporary crown in clinical restorative; it can be used as carving disc instead of dental wax.
Technical parameter
Color: Vita 16 colors,Transparent and Pink Color, 100% PMMA
Diameter: 98mm
Thickness: 10mm-25mm
Hardness: 75-85 Shao
Melting point: 240-270 degree
Density: 1.19
Toughness: Good
machinability: Excellent
Ash: 0.032%
Shrinkage: 0.5%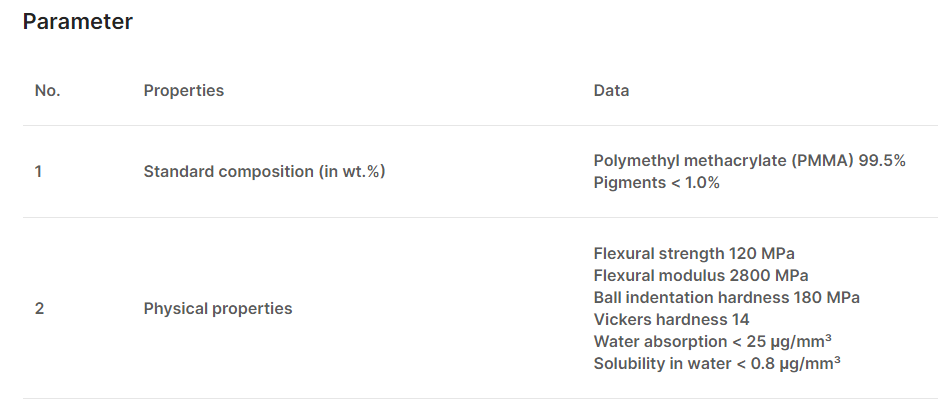 Features
1) We Bioceramics provides super clear PMMA fit for high speed CAD/CAM milling, burn out with clean and polish to a glasslike finish.
2) Use the blanks to create clear nightguards and implant surgical guides, as well as long-span bridgework where warping may be an issue when using wax.
3) The blanks can be used for all clear arylic needs for a more aesthetic finish.
4) Standard sizes are diemeter 95mm for zirkon zahn dentistry cad/cam milling system.
5) Thickness are available between 10mm and 25mm as request.
6) The discs have the edge groves required for a high speed CAD/CAM milling machine.
7) No biological toxicity -it is safe to use for oral cavity,non-toxicity.