Advanced Denture Articulator for Precision Prosthetic Alignment
Our complete denture articulator is a semi-adjustable type designed to ensure precise and accurate articulation of denture models. Articulator features a mandible angle adjustment of 0-20°, sagittal condylar path inclination of 35°, and the magnetic mounting base is compatible with the Artex system, allowing for seamless integration with the Artex system mounting plates accessories.
Technical:
| Property | Specification |
| --- | --- |
| Sagittal Condylar Inclination | Fixed at +35° |
| Curvature Radius | 12.5 mm |
| Bennett Angle | Adjustable 0°-20° |
| Mounting Base | Magnetic, Artex compatible |
It includes occlusal stand platforms(Adjustable height dental prosthetics support stand, and occlusal plate) for mounting and positioning denture teeth, and optional accessories like facebow transfer devices and transfer stands for capturing patient data and transferring it to the articulator. This tool offers precise articulation, efficient workflow and accuracy in achieving optimal denture occlusion.
Features
Semi-adjustable design for precise occlusal articulation: The articulator features a semi-adjustable design that allows for precise adjustment of the occlusion, ensuring accurate representation of mandibular movements.
With a Bennett Angle range of 0 to 20 degrees, allowing for customizable movement in the mandible, ensuring precise occlusal alignment for complete dentures.
Compatibility with Artex system and mounting plates: Designed to be compatible with the Artex system, the articulator can seamlessly integrate with Artex accessories, including mounting plates. This compatibility provides convenience and flexibility for dental professionals already using the Artex system.
Adjustable height dental prosthetics support stand stable denture tooth placement: The articulator comes with a set of raw teeth stand platforms, providing a stable base for mounting and positioning denture teeth during fabrication. This ensures precise placement of denture teeth in relation to the patient's existing dentition and occlusion.
Optional facebow transfer devices for accurate maxillary arch data: Optional facebow transfer devices are available for capturing accurate maxillary arch data from the patient. These devices securely hold the facebow in place, allowing for reliable transfer of the patient's occlusal relationship to the articulator.
Transfer stand for easy attachment and locking of impression data: The articulator's transfer stand serves as a connection point between the facebow transfer device and the articulator. It allows for easy attachment and detachment by tightening screws at the incisal guidance pin point position, and features a locking mechanism to securely hold the impression data obtained from the facebow.
Enhanced workflow and accuracy in complete denture fabrication: With its professional features and optional accessories, the complete denture articulator offers enhanced workflow and accuracy in the fabrication of complete dentures. Dental professionals can achieve precise occlusal articulation, reliable transfer of patient data, and efficient denture tooth placement, resulting in optimal fit and function for their patients.
Complete set listing: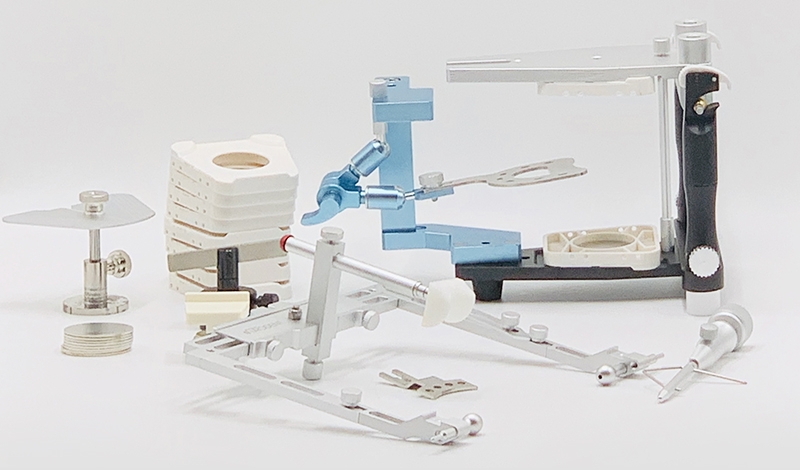 Guide table 15 degrees 1pc
Guide table 0 degree 1pc
Base plate with metal sheet 6 sets
Facebow 1pc
Bite fork (partial and full mouth each size) 1pc
Bite fork support frame 1pc
Universal joint 1pc
Transfer stand 1pc